New Howard County Executive Dr. Calvin Ball sees broad Bikeway support at first budget hearing
On Dec. 12, the new County Executive heard clear messages from us: our community wants $3 million in funding for the Bikeway, we care deeply about healthy, green, equitable transportation options and we are organized! Add your voice of support.
THANK YOU to the businesses, organizations and community members who attended the Howard County budget hearing to advocate for $3 million in funding for the Bikeway.
Many speakers urged County Executive Dr. Calvin Ball to increase funding for bicycling routes in their testimony:
Nikki Highsmith Vernick, president and CEO of the Horizon Foundation
Jennifer White, community advocacy director of the American Heart Association
Mary Ann Scully, president and CEO of Howard Bank
Sandra te Plate, a parent and Ellicott City resident
Greg Klassen, a local entrepreneur from Elkridge who spoke on the Bikeway's benefits to people with mobility needs
Willie Flowers, president of the Howard County NAACP
Hector Garcia, CEO and executive director of FIRN
Kevin McAliley, board member of Bicycling Advocates of Howard County and chair of the Wilde Lake Village Board.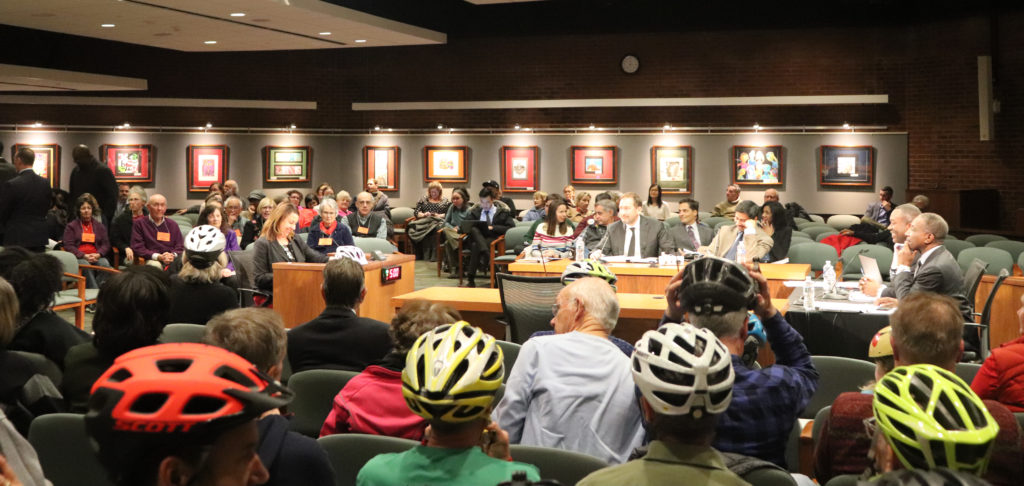 Testifiers also asked for a complete streets policy and funding: complete streets are designed to benefit all users including walkers, transit users, people with disabilities, cyclists and drivers. Complete Streets advocates included Louise Green and Sharon Shaw, lead organizer and member of PATH – People Acting Together in Howard; Becky McKirahan, founder of Why Not Jessup; and Susan Garber, board member of the Savage Community Association.
Local health leaders talked about how building the Bikeway will lead to increased physical activity and health. "Horizon cares about biking and walking because we know that the leading causes of death in Howard County are from preventable chronic diseases like heart disease and diabetes," Highsmith Vernick said. "People in our community are not getting enough routine, daily exercise – and we think one reason is they often can't walk or bike in their own neighborhoods!"
Community members shared in their testimony how the Bikeway would connect neighborhoods, schools, parks and businesses. "From our home, we can walk around our little development of Heritage Woods, and yet we are not able to safely walk to the park or bus stops. Most of our kids who live close to Guilford Elementary School are not able to walk to school," said McKirahan.
Scully, who leads the largest locally based bank employing 300 people across the region, shared why the Bikeway will bolster the local economy, attract business and increase livability and wellness. "The value of investing in biking and walking facilities is striking," she said. "We know that when American communities build safe places to bike and walk they see increased retail sales, rising home values, transportation cost savings and health care cost savings."