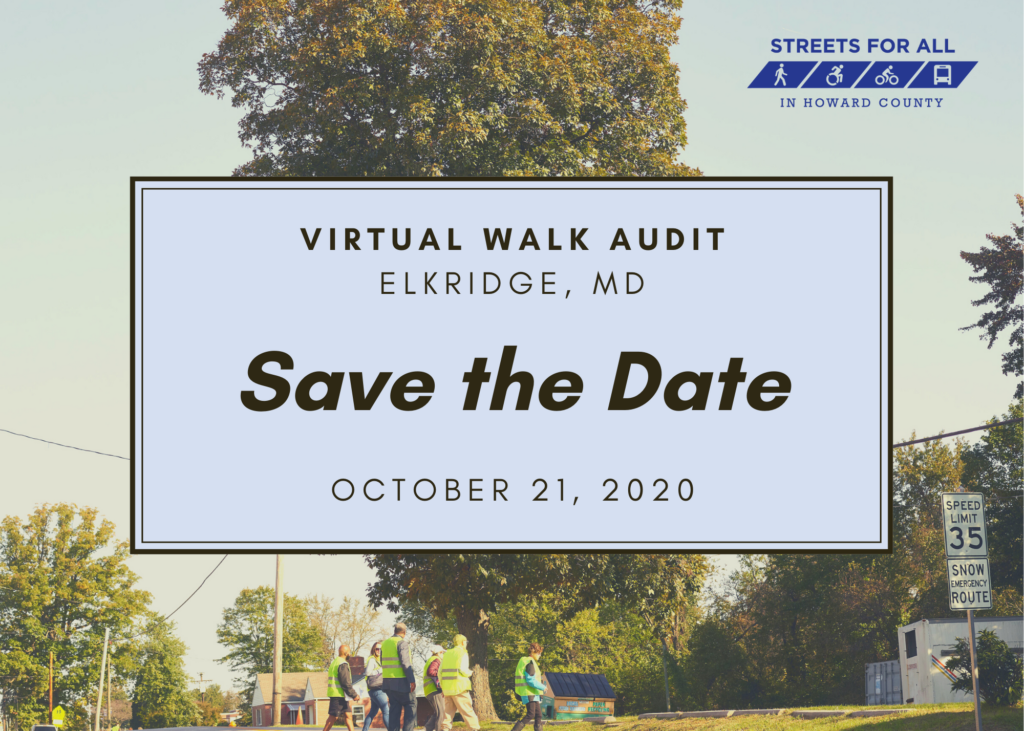 Register for the Virtual Walk Audit in Elkridge, MD.
Do you want a better, safer, more walkable, bikeable and accessible Howard County? Have you ever looked at an intersection or a stretch of roadway and said, "Wow, this could be better designed?" Or "When is this going to be fixed?" Join us for our virtual walk audit in the Elkridge neighborhood and help us recommend the changes that are needed to make it easier and safer for everyone to get around! 
Too many of our streets are not accessible or safe for walkers, bikers, bus riders or people with disabilities. As a result, it is too difficult for children to walk safely to school, for people to be more physically active and for people with disabilities and older adults to travel easily and independently. We want Howard County to be a place where people can easily and safely bike or walk where they need to go. A walk audit can help identify the roads, intersections and other spaces that are challenging for pedestrians, bicyclists and bus riders – and help identify solutions.
This virtual walk audit will focus on Montgomery Rd. between Rowanberry Dr. and Lawyer Hill Apartments in Elkridge. This route will highlight the projects identified in the WalkHoward pedestrian plan that make up Howard County Capital Project K5035. This project is currently in design, which is a great opportunity for us to move this project forward and see it completed!
Join us on this virtual walk audit where you will assess this specific route, identify solutions for improvements and use these skills to make change in your own neighborhood.
Frequently Asked Questions
How does a virtual walk audit work?
A walk audit usually involves a group of people walking a route together, stopping to discuss the design of the built environment and identifying improvements that would make the route safer and more comfortable for pedestrians. For our virtual walk audit, we will convene online via Zoom on October 21 at 7 PM to discuss the topics above. Prior to the event, we encourage you to visit the route on your own or review conditions using Google Maps and share your impressions with us using an app (Fulcrum).
What is Fulcrum?
Fulcrum is an app and website that we will use to collect your observations while completing the walk audit. As we get closer to the event, we will share more information about how to download and use the app. Stay tuned!
How do I participate?
First, be sure to register for the event on October 21.
If you want to visit the route in-person, we will provide you with a toolkit with safety materials and additional instructions. More information on the toolkits is provided below.
Uncertainty you prefer to review the route online using Google Maps and the Fulcrum app, we will send additional instructions via email.
If I choose to complete the audit in-person, will we receive materials to help me complete the audit?
Yes. After you complete your registration, you will receive a toolkit that will include a variety of safety items and instructions to ensure you can complete the walk audit safely on your own.
When will I receive my toolkit?
Your toolkit will be delivered contactless and dropped off to the address listed on your registration. Someone will notify you that your toolkit has been delivered. You can expect to receive a toolkit between October 7 – 9, 2020. (Please note: Toolkits will be distributed to Howard County residents only.)
If I choose to complete the audit in-person, where should we park?
Good question! Feel free to park your car at Elkridge Landing Middle School. After parking there, walk down to Montgomery Road to complete the audit.
How do I submit my information during or after the walk audit?
For this virtual walk audit, we will be using the Fulcrum app and web platform to capture information. But, if you prefer, you can email your comments to us at jwhite@thehorizonfoundation.org.